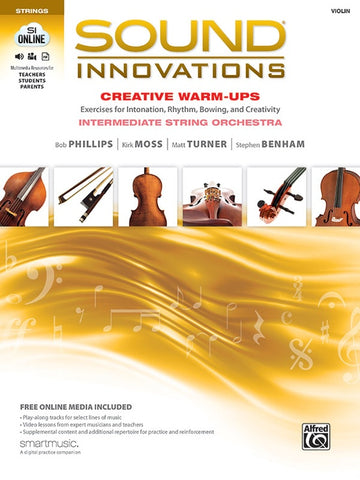 Sound Innovations for String Orchestra: Creative Warm-Ups, Violin
$9.99
Brand Alfred Publishing
Sound Innovations: Creative Warm-ups emphasizes four aspects of string performance essential to the refinement of musicianship and skill at the intermediate level. Consistent with the Sound Innovations structure, students explore, develop, and refine (1) Sound Intonation; (2) Sound Rhythms; (3) Sound Bowing Fluency and Choreography; and (4) Sound Creativity. The levels can be used in the order that is best for your students' development, whether that means as individual warm-ups or as structured units. This material complements the content of Sound Innovations: Sound Development for Intermediate String Orchestra.

Students will develop high-level listening skills through practicing intervals, chord tones and balance, major/minor/diminished/augmented chord qualities, drones, and extended hand patterns---including cello extension pedagogy. Students will also learn to analyze, audiate, and perform rhythms that create rhythmic independence and develop large group rhythmic ensemble playing. Bowing fluency exercises will lead students to play in all parts of the bow, start in different points of the bow, use expressive bow strokes, and execute fluid string crossings. A groundbreaking sequence of exercises and repertoire helps students develop a toolbox of material to use while improvising in distinct styles: classical, jazz, Latin, rock, and over a drone accompaniment. Video demonstrations of key skills and audio tracks of key exercises are referenced in the book and can be accessed online at www.alfred.com/SoundDevelopmentWarmUps.
This title is available in SmartMusic.