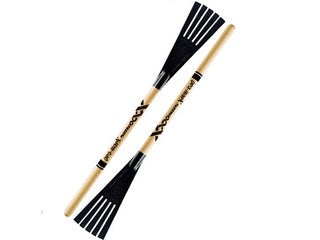 Sold Out
Pro Mark Smaxx sticks ,Hard
$28.99
Brand Promark
This product is unavailable
ProMark SMAX are the flattened, plastic version of brushes. Available in soft, medium and hard versions, SMAX offer a unique attack that punctuates on the drum set or hand drums alike. SMAX are particularly useful in multi-percussion setups where hand drums are combined with other instruments more commonly played with a stick. The wooden handle can also be used for rimshots and other sounds that are more characteristic of a drumstick.
Hard, black plastic head
Standard hickory handle
Provides unique hand-simulating response
Diameter: .530" Length: 15-3/4"