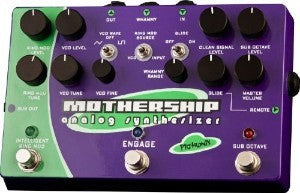 Sale
USED Pigtronix Mothership Analog Synthesizer Guitar Effects Pedal
$499.00

$379.00

Brand Pigtronix
 Expands your tonal possibilities with the first-ever Intelligent Ring Modulator.
The Pigtronix Mothership is an analog synthesizer featuring VCO, Sub-Octave, and the world ' s first Intelligent Ring Modulator. Incredibly fast note recognition and enormous analog sound make this unique synthesizer ideal for use with guitar, bass, horns, vocals or any other musical instrument. No special pickup or interface is required. 

At the heart of the Mothership effects pedal is a newly designed note detection circuit that achieves high-speed and accurate pitch to voltage translation. The Mothership is a true analog mono-synth with a limitless array of tuning options between its voices. This Pigtronix effects unit is capable of otherworldly tones that have never before been available in such a compact and easy-to-use format as well as some new sounds that reach into bizarre and uncharted musical territory. Are you ready to go there? 

VCO 

The main voice of the Pigtronix Mothership effects pedal is a VCO (Voltage-Controlled Oscillator) that outputs either triangle or square waves. The VCO can be tuned anywhere from 2 octaves above the input signal to 2 octaves below the input signal and functions over the entire range of both 5-string bass and 6-string electric guitar. An adjustable portamento
(glide) effect can be added to produce subtle slides from note to note or outrageous multi-octave glissando maneuvers. An expression pedal jack for whammy control provides tunable pitch bending up to one octave using a standard TRS 20K Expression pedal. That ' s right: analog whammy. 

Sub-Octave 

The Pigtronix octave down is massive; it will shake your house. The Sub-Octave is always locked to the input signal, providing a warm and solid fundamental for whatever harmony you create with the other voices. A dedicated SUB Out jacks allows low frequencies from the Sub-Octave and Ring Modulator to be sent to a separate bass amp for maximum booty. 

Intelligent Ring Modulator 

In designing the Mothership, Pigtronix has created something never before heard by mankind: the pitch tracking ring modulator. Tune this ring modulator to the sound you desire and it will follow every note you play, retaining the exact harmonic intervals between its output and the signal it is tracking. A "ring mod source," switch lets the ring modulator follow either the input signal or the VCO signal, providing an immense array of analog textures and interactive harmony. The Mothership ' s glide and whammy functions also apply to the intelligent ring modulator, letting the musician morph one harmony into another and then back again.
Features
Triangle- or square-wave VCO
Pitch-Tracking Ring Modulator
Fast and accurate tracking
Variable portamento
F.A.T. Sub-Octave
Analog whammy
External gate
Individual voice levels and master volume
Pigtronix 40VDC power supply included
Circuit design by Howard Davis
True bypass